Greeting from Principal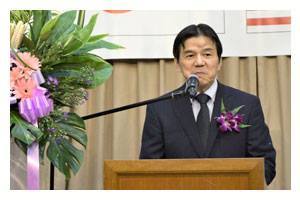 Pusat Bahasa Teikyo (PBT) is a Japanese Language Preparatory Centre for Studies to Japan that was established in April 1997 at the Japan Club of Kuala Lumpur. It is a member of the Teikyo University Group in Japan. PBT prepares students who intend to further their studies to Japan from Malaysia.
  As recognized in the Look East Policy (LEP) by Malaysian government, Malaysia is one of the top countries which have shown strong interest in Japan. In relation to the Japanese government's "300 thousand international students plan" in progress, we are striving to help every student here who is yearning to study in Japan. The "Pre-U in Malaysia, Degree in Japan" is very unique and superior system to put forward and has progressed rapidly. Outside Japan, IBT is the only Pre-U Centre recognized and approved by the Japanese Education Ministry, Culture, Sports, Science and Technology – MEXT (Monbukagakusho). Students, while still in Malaysia, are able to acquire sufficient knowledge in the Japanese Language and also in other academic subjects such as mathematics, chemistry, physics, social studies, etc.
  We would like to create awareness of our existence not only to those who are going to further their studies to Japan but also to those universities and their representatives who are accepting foreign students. Currently in Malaysia, (and in the future, the whole of Southeast Asia) PBT aims to produce excellent personnel academically and build good and peaceful relationship with Japan.
Seimiya Mamoru
Principal
・Principle Education Ideology
Building good relationship with Japan and Southeast Asia, promoting world peace and producing academically excellent students.
・School Motto
EFFORT PROPRIETY JIRITSU
・Education Purpose
Equip students with high quality in-depth knowledge of the Japanese Language and preparing them to further their studies into Japanese universities, colleges and vocational schools.
History
Dec 1995
Initial application for establishment of private limited company in Malaysia
Apr 1997
Establishment of Teikyo (Malaysia) Sdn. Bhd
Dec 1997
Obtained approval and license from the Malaysian Ministry of Higher Education to conduct Pre-U programme
Commencement of Part Time classes for working adults
Jan 1998
Commencement of the Full Time 15 months course
Jul 1998
Commencement of the Full Time 18 months course
May 2002
Commencement of the Full Time Pre-U programme for the Public Service Department of Malaysia funded scholars for undergraduate studies
Sep 2003
Obtained recognition and approval from the Japanese Ministry of Education, Culture, Sports, Science and Technology (Monbukagakusho)
Jan 2007
Commencement of the Full Time Pre-U programme 12 months course
Apr 2007
Commencement of the Full Time Pre-U programme 20 months course